The post Factors to Consider When Shopping for a Home Theater System Read more on: http://evolvetv.tv/
A home theater system is defined as set of entertainment equipment designed to provide the homeowner the maximum enjoyment in viewing experience. The concept is built upon the idea of bringing in the same kind of experience when one watches a movie in a cinema. In fact, it also is commonly referred to as home cinema system. If you're planning to shop for a home theater system one of these days, you're fortunate because there are so many different varieties, with some having pre-configured versions and others with utmost customization to fit your needs. They also can be purchased in varying sizes, sound and viewing capabilities, and the like. In your search for the ideal system, the first thing you need to consider is room size. Figure out where you want to install it before you decide on the specific kind or variety. Be reminded that some systems actually are much better for small spaces while others are designed for very large and wide spaces. [caption id="" align="aligncenter" width="566"]
(image credit: WikiHow.com)[/caption] Apart from room size, another important factor to weigh on is the receiver. Aside from driving the entire home theater system, it also plays many other roles for the system to function the way it is supposed to. And then there are the connections, wherein you have to figure out the number as well as the types of components compatible for attachment to your system of liking. The components we are talking about include DVD players, additional speakers, gaming systems, and others.
Knowing the Types
[caption id="" align="alignleft" width="384"]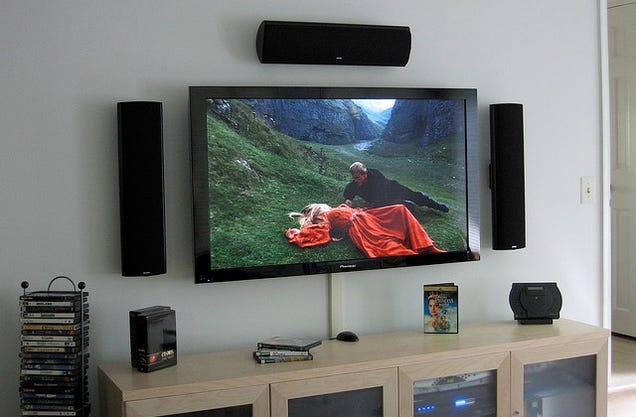 (image credit:
LifeHacker.com
)[/caption] Generally speaking, home theater systems are classified into four types - namely the all-in-one home cinema, sound bar system, component system, and a customized separate system. The first type is also known as the home theater in a box and it is the most expensive option out there because it contains all the components. You also can go for a soundbar type if you're on a tight budget. This one is usually made up of just one bar-shaped box with several loudspeakers. Meanwhile, the component system is usually made up of an A/V receiver, several source components like a DVD or Blu-ray player and game console, and the speakers. Finally, you can go for another expensive option called a separate system in which you have the option to replace the receiver with something else like a discrete processor or pre-amplifier or perhaps use power amplifiers instead of the traditional and standard speakers. In the end, the best thing to do is try to go out there and explore your options. You will realize later on that in doing window shopping, you will learn a lot more about home theater systems, including very specific details and features that we didn't discuss here.
from Evolve Home Solutions - Feed http://www.evolvetv.tv/hometheat/factors-to-consider-when-shopping-for-a-home-theater-system/
via
IFTTT